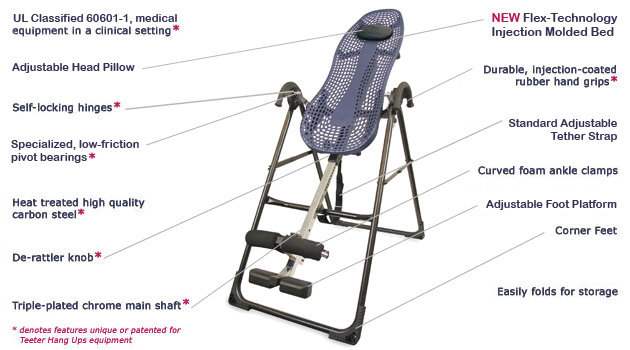 Ep-560 Inversion Table (Teeter) Back Pain, Back Decompression Inversion Therapy
---
Massage your Spine from the inside out !
Wait a minute! That doesn't make sense!

It's Oscillation !
When you raise your hands over your head and then rhythmically - like catching the rhythm (think of a teeter-tauter) - lowering your hands to your waist, your chest, your chin, or wherever the rhythm takes you. You can oscillate back and forth, back and forth.It feels like someone is massaging your spine from the inside - it's an incredibly soothing feeling..

Check out the book: 
Better Back, Better Body
By Jane Broatch
Originally published in 1982, this book is straight talk about the benefits of Inversion Therapy. The book also includes many first hand stories on how specific individuals have benefited by the use of inversion therapy.
Click here to read about the benefits of inversion therapy.

A note from the owner of Momentum98, Phil Wilson;
My experience with Inversion Tables...
It became well known in the early 1980s that inversion traction and oscillation are excellent rehabilitation techniques for people who have had back problems. After using this product, many people find that elusive relief of back problems. Many athletes use the inversion machine for doing exercises like sit-ups, or simply by twisting, and enjoying the flexibility and the working against gravity to strengthen their muscles.

I started selling the Inversion Devices or Inversion Tables (Back swings) in 1981, before they were sold in any other store. And soon they became very popular. In fact, they became too popular, too quickly and thus were fated to what often happens with good health products in a capitalist craze - poor imitations were made in order to profit from new popularity of the product.

Luckily, the Inversion Industry did not disappear with public discontent over poor imitations to great products - and the Teeter Hang Ups emerged!

Check out a great self-massager for the back and shoulders (and so much more!):
The Acu-Masseur
Unsure which Audio Acupuncture Energy is right for you?
Call us and we will help you find what suits you best. This service is free and we are happy to help. Our Energy Specialists are here for your service. Call 970-264-2592. If no answer leave a message and we will call back ASAP.
Guaranteed or your money back.
Every audio and CD comes with a 30 day satisfaction guarantee. Try them out with confidence!
---
Share this Product
---
More from this collection