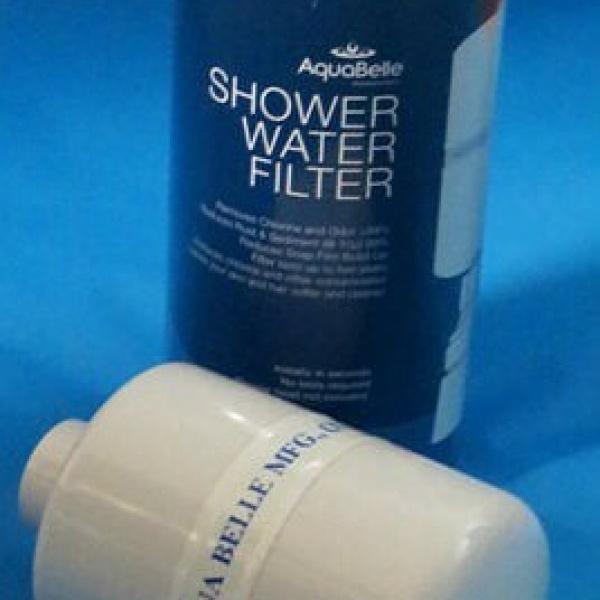 Shower Water Filter (Aqua Belle)
---
Reduces Chlorine > 99%.
Reduces pesticides, Iron & sulfur.
Eliminates Odors & Sediments.
Suppress Bacteria.
Reduces sediment, rust & odor
Reduces the effects of hard water buildup
BENEFITS HAIR and SKIN.
Dimensions 3″ x 5″.
Capacity: 30,000 Gallons – up to 2 years.
Shower-Head IS NOT Included.
Fits standard 1/2′ pipe threads Shower head is not included – use your own shower head.
The Aqua Belle's Shower Filter is the most effective and inexpensive
Instructions – Easy to Install:
Remove your existing shower head with a wrench or pliers, you'll need to keep it handy to reconnect once the filter is installed.
Wrap white plumber's tape (Teflon) around the threads of the shower pipe. This helps cut down on leaks.
Connect the top of the Shower Filter to the pipe. In most cases, you can simply screw it into place.
Reattach the shower head to the end of the Shower Filter.
Turn on the shower to check for any leaks.
Enjoy the Best Shower Filter made by Aqua Belle.
Unsure which Audio Acupuncture Energy is right for you?
Call us and we will help you find what suits you best. This service is free and we are happy to help. Our Energy Specialists are here for your service. Call 970-264-2592. If no answer leave a message and we will call back ASAP.
Guaranteed or your money back.
Every audio and CD comes with a 30 day satisfaction guarantee. Try them out with confidence!
---
Share this Product
---
More from this collection